Explore the Hub's Diversity of Farms
#KnowYourOhioFarmer
The Hub seeks to support producers in Lorain and six surrounding counties: Ashland, Cuyahoga, Erie, Huron, Medina, and Wayne. The map above indicates the location of the hub (with the Hub logo) and the areas from which we source our local food (with green farm pins). Read on below for a list and description of each of our producers, as well as a link to their site!
Autumn Harvest - Wooster, OH
The Ladrach family - Beth and Marcus, with their sons Will and Ben - run this small, sustainable farm in Wooster, Ohio. Since 1946, the family-owned farm has produced grass-fed beef, pork, and chicken, along with organic seasonal produce. Check out their video, which features Marcus's folksy fiddle and accordion music!
60 acres of fields and growing, Camp Road Farm is among the largest growers of produce in the region, supplying numerous businesses in North East Ohio, including many in Oberlin. At just 34 years old, Camp Road Farm's owner is among the leaders of sustainable agriculture in the region.
Elk Creek Honey Farm - Southern Lorain County
Beekeepers Tim and Renee harvest raw honey and make other honey products. Their honey-based products include herbal and flavored honeys, as well as cosmetics and other beeswax products.
Green Field Farms - Wooster, OH
Established in 2003, this farmer-owned co-op organizes and teaches Amish farmers the power of organic techniques and cooperative marketing. At Green Field Farms, they strive for "beyond organic" - wholesome values to produce wholesome food.
Grim Farm - New London, OH
Owned by the Grim Family, this dairy farm is committed to keeping soil healthy for a rich taste in their products.
Grobe Fruit Farm - Elyria, OH
This family-run farm has an abundance of apples and also provides the Hub with delicious and fresh corn on the cob!
Hostetler's Farm - Homerville, OH
Andrew and Caroline are transforming Caroline's family's land from a formerly underutilized resource to a speciality crop goldmine. Andrew and Caroline are both keen on learning about new types of produce and growing to meet buyer demand as opposed to status quo.
JH Weilnau Farm - Milan, OH
This family farm produces organic fruits and vegetable with an emphasis on "Faith, Family, and Farming."
Lettuce Heads Farm - Wellington, OH
Lettuce Heads is a start-up aquaponics (greens grown in water that is mineralized with the excrements of fish) lead by two fathers, who have farmed traditionally throughout their lifetime, and two sons, who want to operate a more sustainable farming operation.
Morning Side Farm - Hinckley, OH
George was a commercial artist in his younger days, but he turned to organic farming to fulfill a desire to be a sustainable member of the community. Selling a variety of vegetables from beets to celery, Morning Side is dedicated to fresh, delicious produce.
Quarry Hill Orchards - Berlin Heights, OH
This family-owned orchard grows a wide variety of fruits, including pears, cherries, peaches, and many types of apples. The Gammie family also supports a farm-to-school program to educate children about food and nutrition.
Michelle sees Shagbark Mill's work as deeply connected to supporting those affected by "fossil fuels such as marginalized populations, people of color, and multigenerational appalachians." Michelle and Brandon started Shagbark with the goal to offer affordable, local, nutritious and organic beans and grains. Shagbark was founded to fill the void for a local mill in Southeast Ohio. Now, Shagbark cleans, mills and bags the local grains and beans fresh for each customer.
Photo from Ohio Secretary of State.
Sunsational Farms - Wayne County, OH
With over 40 acres of sunflower fields, this beautiful and car-stopping farm is all about producing freshly pressed oil for local markets. Dave, the main farmer at Sunsational, has been farming all his life -- as he says, "I have dirt in my veins!"
Tyler's Farm - Oberlin, OH
Tyler's Farm specializes in hydroponic greens. This small family-run operation built their greenhouses in 2012 and has been growing ever since.
Valley City Fungi - Valley City, OH
John, a self-taught fungiculturist, grows several varieties of organic Shiitake and oyster mushrooms, along with other types of gourmet fungi. These are all grown in his incredible self-built farm, made from shipping containers.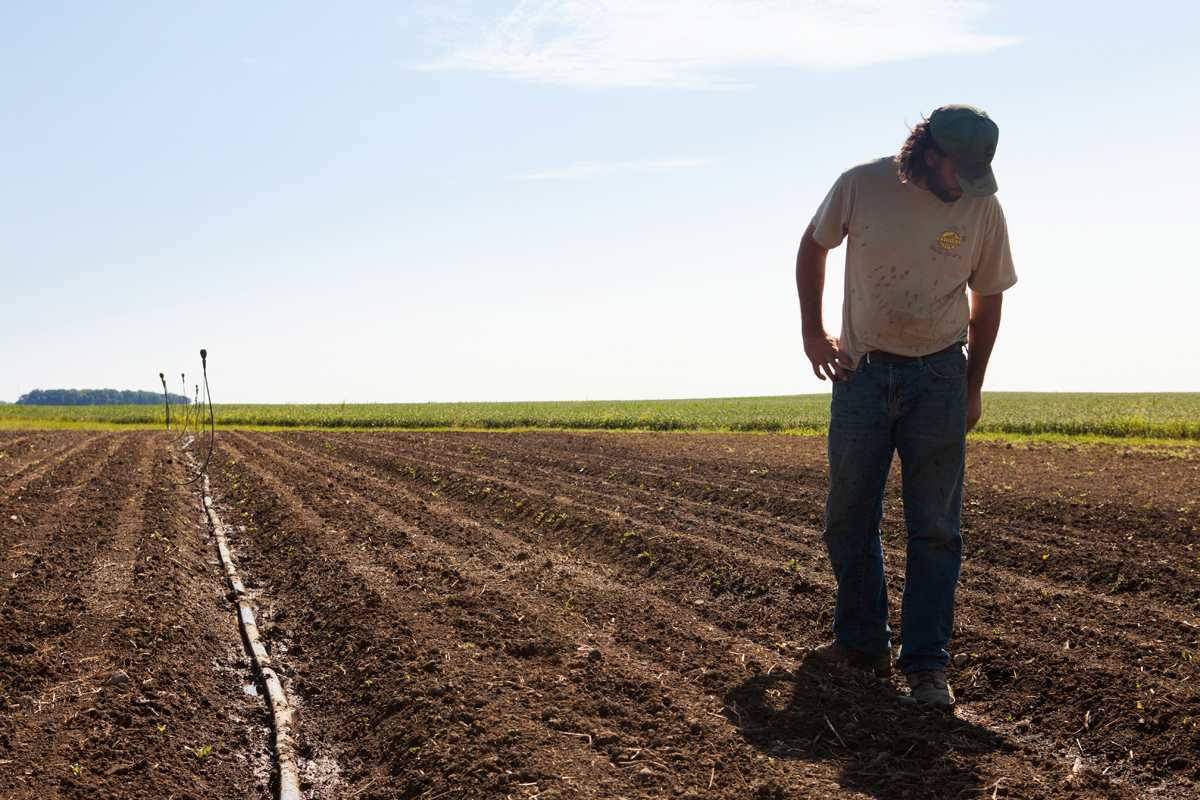 Wayward Seed Farm - Marysville, OH
Jaime and Adam co-founded this certified organic farm in 2006, where they produce bountiful, heritage and heirloom vegetables.
Stutzman Farms - Millersburg, OH
With a focus on local and organic farming, Stutzman farms produces certified organic flours and oats with an on-site mill. They have gluten-free options and are committed to healthy foods.